January 14th, 2022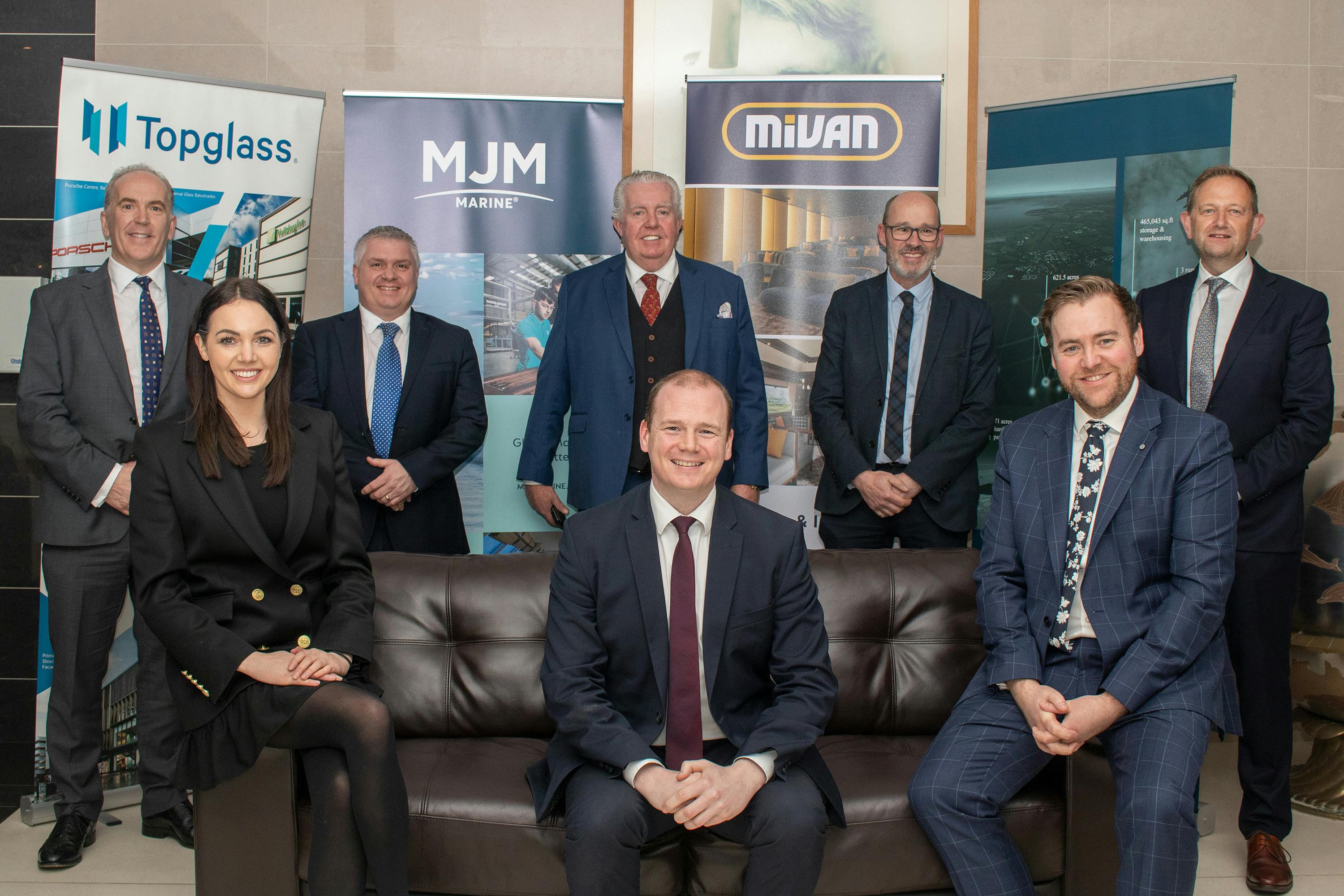 Economy Minister Gordon Lyons visited the head office of MJM Group in Newry on Wednesday to learn about the company's recovery and plans for growth in the wake of the Coronavirus Pandemic.
The Minister met with MJM Group Chairman, Brian McConville CBE; Directors Naoimh and Conleth McConville; MJM Marine CEO, Gary Annett; Mivan CEO, John Cunningham; Topglass Managing Director, Mark Mitchell and MJM Renewables Development Manager, James Crawford.
Minister Lyons, who had earlier met the City's Chamber of Commerce, was interested to hear about the company's recovery from the impact of the pandemic on the cruise industry, how MJM Group is focused on developing renewable energy sources across the group with the launch of MJM Renewables and plans for growth and recruitment in both MJM Marine and sister company Mivan.
MJM Renewables, part of the Geothermal NI consortium, is working to bring together leading organisations in the fields of research, engineering and geothermal development, a previously untapped opportunity in Northern Ireland. These projects will help to drive the shift to a zero-carbon economy and society.
MJM Group Director Naoimh McConville said: "We were delighted to welcome Minister Lyons to our offices and have the opportunity to share with him how we have weathered the storm of the last two years and are continuing to grow and diversify the business in the most challenging economic conditions. It is testament to our team's 'can do attitude' that we are able to build on our past successes and continue to adapt and grow, working with key partners in the industry along with continuous innovation."
Economy Minister Gordon Lyons MLA said: "It was important for me to come to Newry to listen to local employers on the issues impacting their businesses. The cruise industry is among the hardest hit industries by the pandemic. I very much welcomed the opportunity to meet with the team from MJM Marine, Mivan, Topglass and MJM Renewables to hear first-hand about the company's recovery and plans for future growth and diversification."
MJM Marine is a leading international specialist in cruise ship refurbishment with over 38 years' experience. Mivan is one of Northern Ireland's best-known fit-out businesses working in the luxury land and marine sectors across the world, Topglass is a specialist glass and glazing contractor operating across the UK and Ireland and MJM Renewables is focused on the development of renewable energy sources.
Photo Credits:
Back Row L-R: Mark Mitchell, Managing Director Topglass; James Crawford, MJM Renewables Development Manager; Brian McConville CBE, MJM Group Chairman; John Cunningham, CEO Mivan; Gary Annett, CEO MJM Marine.
Front Row L-R: Naoimh McConville, MJM Group Director; Economy Minister, Gordon Lyons MLA;  Conleth McConville, MJM Group Director.
Photography: Alastair Chambers