LATEST PROJECT NEWS - MJM MARINE SIGN CONTRACT WITH AROYA CRUISES FOR SPECIAL OUTFITTING PROJECT!
Back to news
September 14th, 2023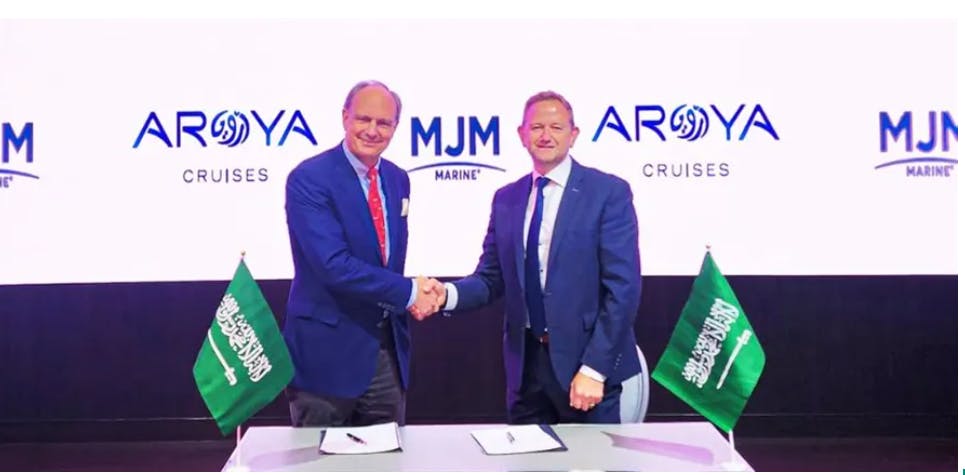 A landmark deal has been secured with Aroya Cruises, which will bring together two of the world's leading outfitting companies. Teams from MJM Marine and De Wave Group will set about one of the largest cruise ship refurbishment projects to be undertaken within the marine industry in the coming weeks.
MJM Marine's scope of works includes upgrades to all existing cabins and suites and the creation of multiple culinary, retail and relaxation venues.
"This milestone deal with Aroya Cruises is a testament to the exceptional capabilities of MJM Marine", said Gary Annett, MJM CEO. "We are pioneering a fresh era in cruise ship outfitting in which our collaboration will redefine the boundaries of what is possible. Working alongside De Wave Group on this landmark project has allowed two leading industry outfitters to work together for the first time".
The Manara cruise ship, sailing under the Aroya brand, will serve as a melting pot of cultures, presenting an array of venues that reflect the diverse preferences of its guests through a uniquely Arabian experience. From stunning gastronomic adventures to captivating entertainment spaces, the ship will redefine the cruising experience, offering a premium atmosphere unlike any other. The incorporation of efficient technical upgrades will further enhance the ship's performance and sustainability, setting new standards within the industry.